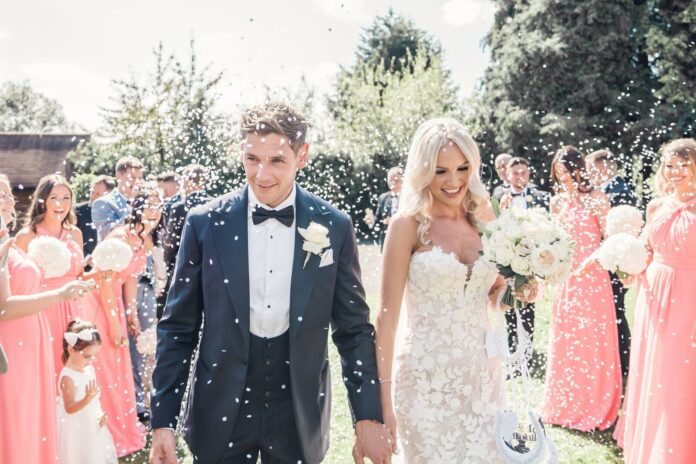 The bride typically gets all of the sartorial attention in the lead-up to the big day, but grooms should not be afraid to show off their style too. Whether it is a custom suit or tuxedo, a tailored outfit can elevate any man's wardrobe.
Off-the-rack and made-to-measure suits offer limited tailoring options, but bespoke wedding suits provide complete control. Here are some reasons why grooms should consider a bespoke suit for their special day:
Unparalleled craftsmanship
When a suit is bespoke, the tailor will work one-on-one with the client to design a garment that perfectly complements their body shape. During this process, the groom can choose the type and location of buttons, lapel style (notch, peak, or shawl), pant break (full, half, quarter, or no), and many other details that will create a unique look. The result is a tailored suit that will stand out amongst the groomsmen and wedding guests.
Bespoke suits are designed to last a lifetime, making them a worthy investment that will become a family heirloom for years to come. In addition to their durability, bespoke suits are crafted with the highest quality materials and construction techniques. This attention to detail ensures that the wedding suit will fit like a glove and provide comfort throughout the day.
The modern man is no longer content to wear off-the-rack suits or tuxedos and instead wants a personalized clothing experience. Whether they are planning a traditional wedding or an avant-garde event, custom-made suits will set the groom apart from his peers and provide a memorable experience.
If a bespoke suit is not in your budget, there are other options available. A made-to-measure suit is an alternative to a bespoke suit that allows for some customization, but sacrifices control over various aspects of the garment.
While a bespoke suit may require multiple fittings, it is a cost-effective way to get the perfect fit for your big day. Make sure to bring dress shoes and a fitted undershirt to your fittings, as they will be used to determine the proper fit for the suit. This undershirt will help reduce sweat stains and odor, ensuring the suit looks great all day.
Extensive range of fabric choices
When you go the bespoke route, you can choose from a vast range of fabrics for your wedding suit. A professional tailor will be able to guide you through the options and help you make a selection that suits your style, wedding theme, and venue.
If you're looking for a versatile cloth that is suitable for a wide range of events, consider choosing Merino wool. This fabric is a natural fiber that is soft, smooth, and breathable. It is also crease-resistant, which makes it ideal for a wedding suit.
Another popular choice is worsted wool. This durable fabric looks crisp and sophisticated but feels lightweight on the body. It's a good choice for formal ceremonies and has the advantage of being suitable for warm weather.
Other popular choices include cotton and polyester. These are synthetic fabrics that are easier to care for than natural fibers, but they don't have the same polished look. Cotton suits are a great option for warmer climates, while polyester can be worn in spring or fall.
Bespoke wedding suits come in many weaves and textures, from subtle to bold. Patterns and textured materials like herringbone, corduroy, and velvet can add a sophisticated or creative touch to your outfit.
The bespoke suit-making process is an exciting journey. You'll be an active participant, collaborating with your tailor and trying on sample garments along the way. The result is a unique and memorable piece of clothing that elevates your style on your big day. It's important to find a tailor who makes the experience fun and easy, so you can be confident your bespoke wedding suit will fit you perfectly and look better than you imagined!
Personalization
When a groom chooses to wear bespoke wedding suits or tuxedos, it sends a signal that he is not only serious about his style but also about his quality and taste. The possible customization level allows him to create a suit that will be unlike anything anyone else has ever seen or worn, and it will serve as a lasting reminder of this special day.
Choosing a bespoke suit requires time and planning, but it is an investment that will pay off. During the design process, a reputable tailor will take a series of measurements and make new paper patterns based on the groom's body shape. They will consider the groom's skin tone, hair color, and overall demeanor to help him select the most flattering style for him.
Grooms who want to personalize their bespoke suit further can add a monogram or other embellishments to their tuxedo or suit. A simple embroidered message on the back of a coat or jacket collar is one option that will be visible to guests and your wedding photographer. Another option is to adorn the front of a suit or tuxedo lapel with a custom-designed pin, which can feature a quote, an expression, or your wedding date in Roman numerals.
A bespoke suit is more than just a fashion statement; it is an experience and a journey in its own right. The process is an opportunity to collaborate with a talented tailor and learn about their craft while establishing a relationship with them that will last far beyond the big day. While off-the-rack and made-to-measure wedding suits are certainly an option for most grooms, those who choose to go bespoke will not regret the extra investment they have made in their wedding attire.
Longevity
Buying a wedding suit is a major investment for many grooms, and they want to ensure it will last them at least two or three years. This is a good reason to consider a full-bespoke suit, which is crafted entirely from scratch and made to personal specifications. A bespoke suit will be of superior quality and may be more expensive than an off-the-rack option, but it is worth the extra cost.
Bespoke suits can be long-lasting if properly cared for and maintained. For example, a good tailor will use high-quality wool fabrics that are less likely to wrinkle or crease than mass-produced, low-quality suits. A good tailor will also use lining and canvas to provide added structure, so the suit stays in shape and won't get baggy over time.
Grooms can work with their tailor to add other touches to their custom suits or tuxedos, such as unique pockets or bow ties. Some grooms opt to have their names sewn onto the back of their collar, which can give the suit a more personalized look. Other grooms prefer to have their wedding date embroidered into the felt fabric piece on the inside of the jacket collar, which is a subtle way to show off their special day.
While off-the-rack and made-to-measure suits offer an affordable and quick solution for a wedding suit, these options don't allow for many adjustments. As a result, they fit only a small percentage of men.
Bespoke wedding suits are the most expensive option but offer the best fit and quality. A true bespoke suit requires a minimum of 24 measurements over two fittings and uses top-quality wool fabrics from brands such as Loro Piana, Lanificio Cerruti, and Dormeuil.
Value
With so many details to work on when planning your wedding, it can be easy to overlook one thing: the groom's suit. It may seem like an easy choice to pick up a standard off-the-rack suit, but bespoke wedding suits are a more timeless and valuable option. The quality of the materials and construction techniques that go into a custom-tailored suit make it an investment that will last for years to come.
A bespoke suit will also serve as a memento of your special day. Many couples choose to keep their wedding tuxedo after the big day and wear it on other occasions. This gives the suit a sentimental value and ensures that it is properly taken care of so that it can be passed down through generations.
While bespoke suits are more expensive than off-the-rack ones, they offer much better value in the long run. Off-the-rack suits are created to fit an average male body and cannot be adjusted to the individual's specific body shape, while a made-to-measure suit is based on a standard pattern and can be altered to the unique size of the wearer.
Bespoke suits are also more comfortable than off-the-rack suits. Off-the-rack suits are often made with polyester rather than wool and have a tighter fit, which can lead to discomfort for the wearer. A bespoke suit will be fitted to the wearer's specific measurements, providing a comfortable, flattering fit.
In addition to the benefits of comfort and a great fit, bespoke suits can be designed with many personal touches that can make them stand out from the crowd. For example, you can choose a design, buttons, pockets, and more to highlight your own personality.