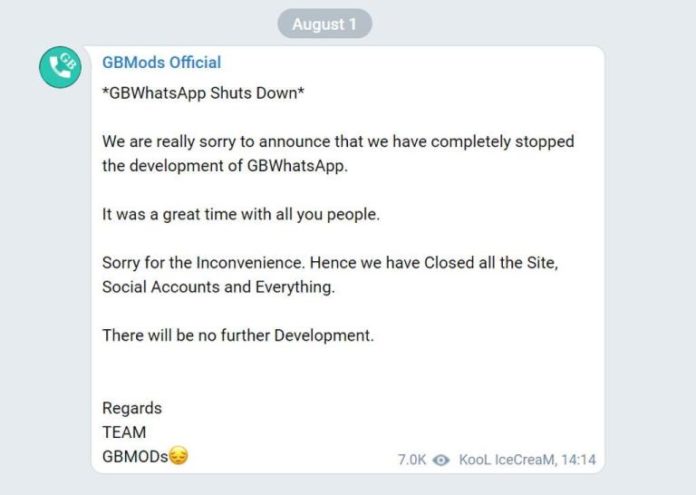 Famous Whatsapp MOD GbWhatsapp is finally shutting down. On Thursday, the developers of GbWhatsapp released a statement about the shutdown of this popular Whatsapp MOD app. It is a black day for Whatsapp MOD lovers.
What is GbWhatsapp?
GbWhatsapp is a very popular Whatsapp MOD that offers various features in your Whatsapp. It has all the features of the original Whatsapp with some extra tweaks. You can do a lot of things including theme change, hide last seen, hide blue tick with the help of this Whatsapp MOD.
Why is GbWhatsapp Shutting Down?
Whatsapp recently changed their terms and conditions and privacy policy. They blocked the accounts of many users who are using several Whatsapp MOD's. Many users accounts got blocked who are using GbWhatsapp or any other Whatsapp MOD's.
After this, the developers of GbWhatsapp released several Anti-ban version of the app. But still, users got blocked by Whatsapp. It was a very tough situation for the GBMODS (Developers of GbWhatsapp) team.
And now, they released this statement about the shut down of the app. It is an official statement from the team and it's confirmed.
What did they say in the Statement?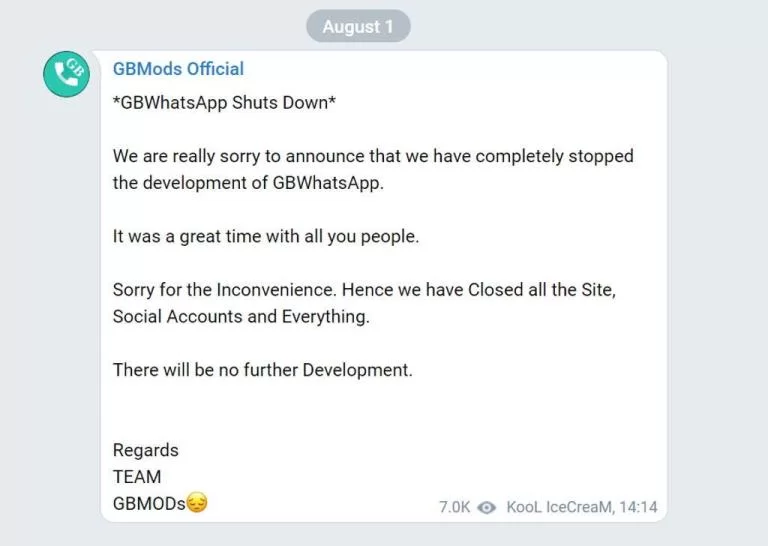 We are really sorry to announce that we have completely stopped the development of GBWhatsApp. It was a great time with all you people. Sorry for the Inconvenience. Hence we have Closed all the Site, Social Accounts and Everything. There will be no further Development.
-Team GbWhatsapp
This is the official statement from the GbMods team. As you can see, they are also very sad about the shutdown of GbWhatsapp.
I'm a GbWhatsapp User, What Should I Do?
If you're a GbWhatsapp user, you can migrate all the data to official Whatsapp and start using it to play on the safe side. Alternatively, you can use YoWhatsapp, 2nd popular Whatsapp MOD after GbWhatsapp. But, we'll suggest you to use the official Whatsapp. Because a few days ago, Whatsapp Plus, another Whatsapp MOD got shut down and now GbWhatsapp. So, we can't say that YoWhatsapp will stay forever. We know that you will miss those awesome features GbWhatsapp, but it is the only way you can save your Whatsapp account. All you can do is to wait for the features to be added in the original Whatsapp.
How to Migrate from GbWhatsapp to Official Whatsapp?
Backup all of Your GbWhatsapp Data to Google Drive
Uninstall GbWhatsapp
Download Official Whatsapp from Google Play Store
Enter Number and Verify Using OTP
Restore the Data from Google Drive
That's it. Now, you'll get all your GbWhatsapp Data into your Official Whatsapp
Final Words
So guys, if you find all the information about GbWhatsapp Shut Down, then you can share this post with your friends and family. Share your experience with GbWhatsapp in the comment section below. If you have any question regarding the shutdown of GbWhatsapp, you can comment down. Visit our homepage for some awesome stuff.