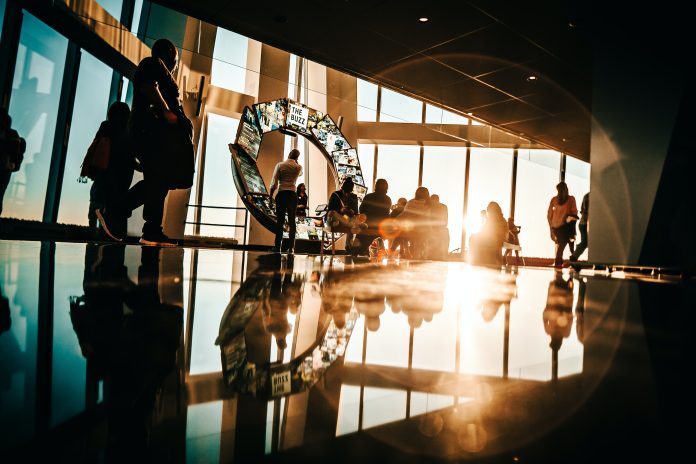 When going to a trade show the business is hoping that it will generate connections and sales of the goods and services they provide. Trade shows give them a chance to meet with others who are similar to them as well as consumers that are looking for the type of products that they provide. The key to making the most out of participating in a trade show is to come in contact with as many people as you can. There are a lot of obvious ways to entice people to your exhibit such as backlit trade show displays but there are a lot of little ways to bring people into your booth at Trade Shows. 
Serve Drinks
Consumers are walking booth to booth looking for things that stand out to them and conversing with a lot of individuals which can lead them to be parched or wanting something sip on. The obvious solution to this would be to hand out beverages to those who come into your booth with waters and sodas. One way to make you stand out from the crowd would be to serve other types of beverages. This could be energy drinks or even beer but just something that would not be at every booth there. 
Catered Snacks 
Food is always something that can lure people in but you have to have the right snacks. Many booths will have prepackaged snacks such as granola bars, cookies and pretzels. Any food is appreciated in order to be different from the other booths would be to have popcorn that is being popped within the booth that is hot and ready as consumers come through. Another idea would be to have catered cookies or other sweet treats that can easily be taken with them. Lastly you could do any savory finger foods to change things up a bit. 
Have Activities
Getting your consumers to participate in something is a great way to get to know one another and also get some conversions going. Some ideas for this would be to have a putting green at your booth and if they make it they could receive a small prize. You could also have a rock, paper, scissors contest to get a lot of people involved and even bystanders may want to come watch the excitement. Any kind of game that gets people involved but it is also short and simple could help with the foot traffic through your booth.
Giveaways
Having a good giveaway at your booth is something that would increase that number of people that you get to talk to. Get a good prize that would interest a lot of different people and those that come to your booth can fill out a form in order to be entered into the giveaway. As people come to the booth in order to fill out the form you could catch them and hopefully strike up a productive conversation. 
Ready for your Next Trade Show?
Trade shows can be very productive and generate a lot of leads if you get a good amount of foot traffic through your booth. You can do that in many ways such as beverages, snacks, activities, giveaways and so much more! Just a little extra effort into what you bring to the trade show can make all the difference in your experience.